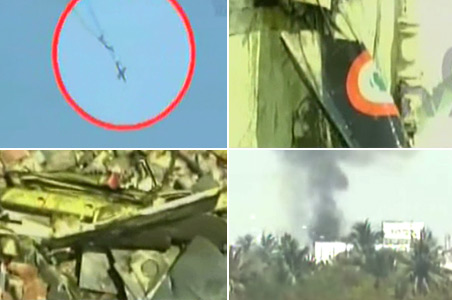 Image Copyright - NDTV
A Navy aircraft crashed into a residential building in a crowded area during an airshow in Hyderabad. At least one person, the pilot, is believed to have been killed. The other casualties are not known yet.
The aircraft that crashed was a Kiran MK-II aircraft belonging to the 'Sagar Pawan' aerobatic team of the Navy. Sources say after doing dive formation that was part of the air show organized for the inaugural event of the India Aviation Summit, the planes were levelling out before flying off in different directions.
Eyewitnesses say the plane nose-dived in a free fall. Rescue team says plane hit cell tower before crashing. Hyderabad police commissioner AK Khan has told NDTV that the pilot is suspected to have died.
Source:
http://www.ndtv.com/news/cities/disaster-at-hyderabad-air-show-17130.php